| | | |
| --- | --- | --- |
| | Rojos del Águila de Veracruz | 88 |
---
Notice: All logos on this page are included within the parameters of 17 U.S.C. § 107, which states that the reproduction of a copyrighted work for purposes of criticism and/or comment is not an infringement of copyright. No challenge to the copyrights of these logos is intended by their inclusion here.
---
Posted 2012 August 26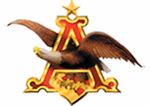 If you're an American, it's pretty much impossible to look at the logo of los Rojos del Águila de Veracruz and not be instantly reminded of the Anheuser-Busch logo. Anheuser-Busch first used that logo back in the 1870s, so there can be little doubt that this is a case of the baseball team "being inspired by" Anheuser-Busch, not the other way around. I'm not sure why they did this. It's fairly blatant, and the letter "A" isn't even the first letter of the team's geographic name or team name. Are they trying to send the message that they are to baseball what Budweiser is to beer? If so, do they think that's actually a positive quality? The team isn't that bad; they actually have five league titles to their name. Granted, the last one was in 1970, but there are seven Major League teams that haven't won a world series since then, either. To be the baseball equivalent of Budweiser, you have to have widespread popularity despite an utter lack of quality. The only team I can think of that might qualify is the Chicago Cubs, and even they aren't that bad.
Another problem is that the team's name translates to "Red Eagles" and that the eagle in the logo is brown. So the team has a brown eagle despite being called the Red Eagles, and an "A" despite its team and geographic initials being "R" and "V". I'm beginning to be surprised the eagle is perched on a baseball bat and not a lacrosse stick. Maybe the artist couldn't draw a lacrosse stick. This is not a well-drawn logo, after all. Everything has a two-dimensional look to it, as if we're looking not at an eagle perched on a baseball bat, but rather at a paper cutout of an eagle perched on a paper cutout of a baseball bat. About the only good thing I can say about this derivative, poorly-rendered logo is that it doesn't look like a cartoon character.
And frankly, I have to wonder if that's only because the artist couldn't find any source material to copy from.
Final Score: 88 points.
Penalties: Equipment, 13 pts; Letter, 24 pts; Irrelevance (for the "A"), 39 pts; Logo, 12 pts.
Bonuses: None.
---
This page Copyright ©2012 Scott D. Rhodes. All rights reserved