| | | |
| --- | --- | --- |
| | Águila de Veracruz | 57 |
---
Notice: All logos on this page are included within the parameters of 17 U.S.C. § 107, which states that the reproduction of a copyrighted work for purposes of criticism and/or comment is not an infringement of copyright. No challenge to the copyrights of these logos is intended by their inclusion here.
---
Posted 2023 May 28
Veracruz is one of those cities that reminds us gringos that it's not just Europe who makes us look young. The city was founded in 1519, nearly a century before Jamestown (the first permanent English settlement in today's U.S.), and nearly half a century before St. Augustine (the first permanent European settlement in today's U.S.). It's not the oldest city in Mexico, but it is the oldest that was founded by Europeans. It quickly established itself as a major port, and to this day it's the largest Atlantic port in Mexico. So while it's not necessarily one of the first cities that come to mind when Americans think of Mexico, it's definitely one of the more significant ones.
If you're wondering why it quickly became so important, it's because the area nearby was well suited for growing sugarcane. Not long after its founding, ships were leaving Veracruz sending sugar to other countries. And when those ships came back, they were bringing...um...people to work on the sugar plantations. Hey, I'm not telling you anything you don't already know when I tell you that history ain't always pretty. But of course not every ship in the area was involved in the slave trade. This being the Sixteenth Century, a lot of those ships were instead involved in piracy because, you know, port.
Now, I don't to imply that Veracruz was a horrible place to be because of all the slavery and the piracy. It was a horrible place to be because of the slavery, the piracy, and numerous other things. There were also battles with the Spanish during the struggle for independence. There were invasions by the Americans. There were blockades by the French. See? There's a whole list of reasons why Veracruz was a horrible place to be. It wasn't just the slavery and the piracy.
I've already said why there were battles with the Spanish, but you may be wondering why there were invasions by the Americans and blockades by the French. As for the American invasion, that was during the Mexican-American War, which you probably don't know much about but probably do at least know is a thing that happened.
The French blockade? That's probably a new one to you; it certainly was to me. The blockades were part of something known as the Pastry War, which sounds funny (it brings to mind images of people throwing croissants at each other) but actually wasn't that funny because this wasn't a war fought with pastry, it was a war fought over pastry. Okay, that still sounds pretty funny now that I think about it. But we're talking about an actual war with actual casualties here. It started when a pastry chef in Mexico wrote to the King of France complaining about his bakery having been looted by Mexican officers. The French king responded by— you know what? No matter how I try I can't make this not sound silly. I mean, we're talking about a freaking war started by the French because someone stole some bread. And you thought what they did to Jean Valjean was overkill. Anyway, about three months and three hundred casualties later, the Mexicans agreed to pay 600,000 pesos to France. I'm not sure what that works out to in today's money, but to get some sense of scale, be aware that at the time one peso was a typical daily wage for a typical worker in Mexico City. The city of Baltimore has a population of just under 600,000 people, so imagine all the money people who live in Baltimore earn in a typical day, and that's about what we're talking. You may note, incidentally, that I said one peso was the typical daily wage for a typical worker in Mexico City, not a typical worker in Veracruz. That's because the bakery where the soldiers stole the bread was in Mexico City, not Veracruz. The fighting was all in Veracruz because, once again, port.
The Mexicans never actually paid the 600,000 pesos, incidentally. About twenty years later the French would declare war on Mexico again, and the outstanding payment was one of the reasons given. In short: Do not, under any circumstances, fuck with French bakers.
Anyway, later developments in other countries caused sugarcane plantations in tropical areas to decline in importance, which could have easily led to a decline in importance of Veracruz in general. Fortunately for them, oil was discovered not too far away. It wasn't long before that oil was being delivered to Veracruz (because, for the third time, port) so that it could be shipped to other countries, and that meant that there were a lot of Americans in the area representing various oil interests. And it's because of these Americans that baseball came to Veracruz. In fact, the first baseball team in Veracruz got started because the local employees of one of the oil companies started playing and the company bought uniforms for the players. The name of that company? Compañia Mexicana de Petróleo "El Águila".
But that wasn't the current team in Veracruz. That team — El Rojos del Águila de Veracruz — lasted a very long time, from 1903 to 2018. They then moved to the Laredo area on the U.S.-Mexico border (in fact, that team splits their home games between Laredo, Texas and Nuevo Laredo, Tamaulipas). Veracruz only went a couple of years without baseball, as the league announced that a new team in Veracruz would be one of two expansion teams for the 2021 season. No, that's not quite right. The announcement was actually made by Mexican president Andrés Manuel Lóopez Obrador. Seriously. That should tell you how seriously Mexicans take their baseball. For all that America loves its football, the announcement that the Houston Texans would be joining the NFL wasn't made by Bill Clinton.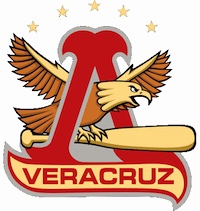 Taking the name of an previous team in town is apparently even more common in Mexico than it is in the United States, so it should be no surprise that when baseball returned to Veracruz, the new team essentially had the same name as the old one. They dropped the "Rojos" bit, but that's obviously pretty minor. The new team fortunately did not use the old logo, which as you can see looked like a poorly-drawn ripoff of the Anheuser-Busch logo. Instead they use a red A superimposed over an eagle's head. It goes without saying that it's a better logo than the old one — it would take active effort to be worse — but beyond that, it's just a really good logo. It's also a nice touch that the V which is the cap insignia is the A from the logo rotated 180° and with the crossbar removed.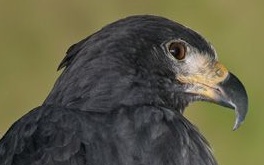 Incidentally, I got curious as to whether there are actually eagles in the Veracruz area (yes, I know it's not the origin of the name in any case, but I'm still curious), and if so, whether the eagles in the area look like the one in the logo. The answer appears to be yes to both. To the left you will see a solitary eagle (that's the species name; I'm not just saying it's an eagle that's by itself). The solitary eagle's range is scattered across Latin America, including several discontiguous areas ranging from northern Mexico a spot on the border between Bolivia and Argentina. I'm not positive the range includes the actual city of Veracruz, but it definitely includes the surrounding areas. And while I can't say for certain that the logo was based on the solitary eagle, it certainly looks similar. But even if it isn't based on the solitary eagle, or even if the solitary eagle was nowhere near Veracruz, I don't think I'd care. It's just a good logo. And so much better than the Anheuser-Busch ripoff.
Final Score: 57 points.
Penalties: Singular, 15 pts; Letter, 24 pts; Humanoid (the eyes), 30 pts.
Bonuses: Logo, -12 pts.
---
This page Copyright ©2023 Scott D. Rhodes. All rights reserved