| | | |
| --- | --- | --- |
| | Wilmington Blue Rocks | 189 |
---
Notice: All logos on this page are included within the parameters of 17 U.S.C. § 107, which states that the reproduction of a copyrighted work for purposes of criticism and/or comment is not an infringement of copyright. No challenge to the copyrights of these logos is intended by their inclusion here.
---
Posted 2017 June 11
Sometimes I review a team and everything about it — the nickname, the logo, et cetera — is so straightforward and obvious that there's really nothing to say about it and so I spend most of the review on a digression of some sort. And then there are teams where absolutely none of it makes sense, and so my whole review is trying to explain what the hell these people were thinking. And sometimes I get a team like this, where I can't even do that because none of it makes any fucking sense. But I have to do something, so let's start where we can.
The "Blue Rocks" name dates back to 1940, when the original Wilmington Blue Rocks of the Class B Interstate League debuted. The team held a name-the-team contest. This being way back in 1940, I have no idea if that means the contest was an actual contest and not some phoney-baloney marketing gimmick like today's name-the-team "contests" are, or whether it means the contest was even less credible than such things today are. In any case, the credited winner was a 73-year-old man named Robert Miller, who decided that the blue granite along the Brandywine River was a good thing to name a team after. He was wrong, of course, but we're talking about a league which over the years had teams with names like Lancaster Red Roses, Reading Chicks, Zanesville Flood Sufferers, and Marion Glass Blowers. I don't think we can blame Mr. Miller for thinking "Blue Rocks" was a good name if these were the examples he had to work with. The original Blue Rocks folded in 1952 along with the rest of the Interstate League (the 1950s were a rough time for baseball's minor leagues). When the current incarnation debuted in 1993, they couldn't think of anything better (despite the fact that Carolina League team names are nowhere near as bad as Interstate League team names).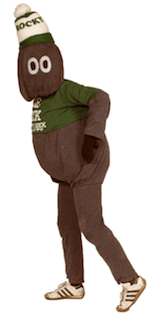 Okay, fine, that's the name. What about the logo?
Sigh.
I really don't have a good explanation for the logo. I have the actual explanation, but it's not a good one. The moose is the team's mascot. Okay, sure, I understand why you can't have an actual rock running around as your mascot. Not that it hasn't been done. Slippery Rock University (in Slippery Rock PA, about an hour north of Pittsburgh) used to have a mascot called Rocky the Rock (sports teams at SRU are called The Rock). A picture of him is to the right. I promise you, this is real. And in terms of explaining why you can't have an actual rock running around as your mascot, I daresay this picture is worth several thousand words. I'd be embarrassed to wear this outfit to rob a bank, much less support a college football team. So clearly the Wilmington Blue Rocks needed to come up with a mascot that wasn't a rock.
But why a moose? That's what I don't understand. The moose's name, for the record, is "Rocky Bluewinkle", obviously a (stupid) riff off the old cartoon. From what I found at Chris Creamer's Sportslogos.net, Rocky Bluewinkle was the brainchild of one Frank Bolton, the (current) team's original owner. Bolton's own explanation for how he came up with the nickname was "it was after some bad Chinese food". Yes, he really said this. Apparently even the person he said it to couldn't tell whether he was kidding.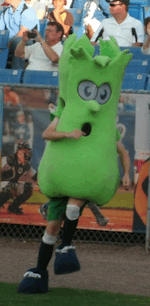 But Rocky Bluewinkle isn't even the strangest mascot the Blue Rocks Have. To the left you will see their other mascot: Mr. Celery.
Apparently the story behind this is that the team somehow (stories vary) got their hands on a celery costume that had been thrown out. (It's not hard to figure out why the original owners of the costume threw it out. Why they commissioned a celery mascot in the first place, however, is a mystery for the ages.) Anyway, Mr. Celery comes out and does a little dance whenever the Blue Rocks score at a home game, and if that doesn't give fans a reason to root, root, root for the visiting team then I don't know what would. Honestly, I suspect the real reason for Mr. Celery is that it's some variant of the "ugly bridesmaid" theory: someone figured Rocky Bluewinkle wouldn't look half as silly next to Mr. Celery. And they're right, of course. Hell, Rocky the Rock wouldn't look half as silly next to Mr. Celery. Although to be fair, Mr. Celery wouldn't look half as silly next to Rocky the Rock.
The fans in Wilmington, incidentally, love Mr. Celery. There must be something in the water.
I mean that. That's the only thing that explains any of this. It's the only thing that explains Mr. Celery. It's the only thing that explains Rocky Bluewinkle. It's the only thing that explains why the team is called the Blue Rocks in the first place. Furthermore, a quick bit of googling indicates that the tap water in Wilmington tastes horrible. The stuff I found online blamed hard water and chrlorine, but I have a different theory. Clearly, someone is putting something hallucinogenic in the water. That explains why the fans look at a man running around in a celery costume and think it's cool. Hell, it might even explain why the state kept sending Joe Biden to the Senate (it damn sure explains how Christine "I'm not a witch" O'Donnell won the Republican primary one year). I'm guessing the whole state has been made bonkers by the water.
Not that I'm saying they should fix the water. I mean, seriously, let's look at their situation: they're in one of the tiniest states in the country, there's not much to do there, and even if they try to escape they're surrounded on three sides by Baltimore, Philadelphia, and New Jersey. If there was ever a city whose people deserved to have a lysergic water supply, it's this one. Let them have it. Let them spend their whole lives so zonked out that they enjoy the terpsichorean stylings of a celery stick. The other alternative is being surrounded on three sides by Baltimore, Philadelphia, and New Jersey, and being fully aware of that fact. That's not a fate I'd wish on anyone.
Final Score: 189 points.
Penalties: Compound, 34 pts; Equipment, 13 pts; Diamond (behind the moose; yes, I know one of Delaware's nicknames is "The Diamond State"; no, this doesn't mean I'm reducing the penalty), 16 pts; Humanoid, 24 pts; Irrelevance, 39 pts; Cartoon, 47 pts; Name, 10 pts; Logo, 12 pts.
Bonuses: Local, -6 pts.
---
This page Copyright ©2017 Scott D. Rhodes. All rights reserved