| | | |
| --- | --- | --- |
| | Winnipeg Goldeyes | 116 |
---
Notice: All logos on this page are included within the parameters of 17 U.S.C. § 107, which states that the reproduction of a copyrighted work for purposes of criticism and/or comment is not an infringement of copyright. No challenge to the copyrights of these logos is intended by their inclusion here.
---
Posted 2012 September 2
So I'm getting ready to write the review for the Winnipeg Goldeyes, and I start the way I usually do: I go to the website to see what they consider the logo to be (given the distinction between a logo and the cap insignia, it can be hard to tell sometimes), and to get a general idea of what the logo is and what I'm going to write about. So I go to the Winnipeg Goldeyes' website and OH MY GOD WHAT THE FUCK IS THAT THING THERE'S A DEFORMED TELETUBBY FROM HELL ON THE WEBSITE SOMEBODY SAVE ME.
What, you may ask, am I talking about? I am talking about this: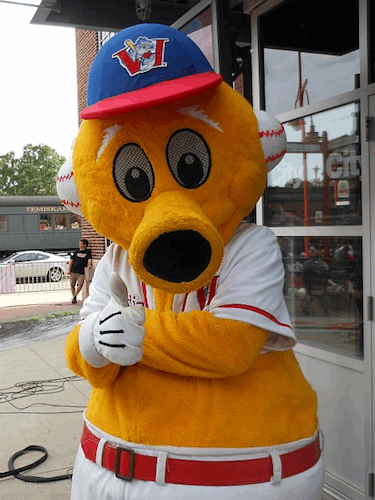 Seriously, people, which level of Dante's hell did this monstrosity escape from? It looks like an orange Teletubby lost its head and, lacking an available pumpkin to use a là the Headless Horsemen, instead grabbed the main character from the video game Q*Bert and stuck him on its neck to use for a head. Then it grabbed two oversized baseballs and shoved them in its new ears so it wouldn't have to hear the scream of anguish coming from the Q*Bert. And then it decided that it had a midriff worth showing off and modified its shirt to expose everything below its nipples (if it has them, and I really don't want to know whether this thing has nipples). Thanks a lot, Goldeyes. I'm going to have nightmares until spring training because of this fucker.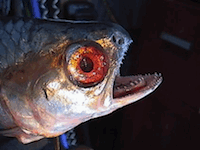 I think this may have been deliberate. I think they wanted to scare me to death with their mascot so I'd be distracted from how weird their logo is. The logo has eyes bigger than they ought to be and hideous, sharp teeth. Do actual goldeyes look anything like this? Well, I'm not sure if the picture to the right is real or the work of Photoshop and someone's twisted imagination, but this thing actually looks worse than the logo. The logo only has one row of teeth. Is this really what you named your team after, Winnipeg?
If so, congratulation on picking a name that's ten thousand times more intimidating than one might think. But do the children of Winnipeg a favor and don't take any of them to a game. Take them to something with a more fan-friendly name, like your NHL team. Jets may be capable of delivering bombs that can wipe out an entire city, but I promise you they're not as nightmare-inducing as this thing.
Final Score: 116 points.
Penalties: Letter, 24 pts; Cartoon, 47 pts; Player, 51 pts.
Bonuses: Local, -6.
---
This page Copyright ©2012 Scott D. Rhodes. All rights reserved