| | | |
| --- | --- | --- |
| | York Revolution | 125 |
---
Notice: All logos on this page are included within the parameters of 17 U.S.C. § 107, which states that the reproduction of a copyrighted work for purposes of criticism and/or comment is not an infringement of copyright. No challenge to the copyrights of these logos is intended by their inclusion here.
---
Posted 2018 May 5
As I mentioned in my review for the Trenton Thunder, there was a time in early American history where "capital of the United States" was best defined as "whereever Congress happens to be hanging out this week". And for a while, "wherever" was York, Pennsylvania. That means York has a claim to being capital of the United States. But York doesn't stop there. York would like you to know that it wasn't just a capital of the United States, it was the first capital of the United States. Of course, other places dispute that claim. And they're right to, because York's claim to being the first capital of the United States is a bit of a stretch. The claim rests on the fact that the Articles of Confederation were drafted there, and since one can argue that before the Articles of Confederation were ratified there wasn't truly a United States (just several united states), any place Congress hung out before then wasn't truly a capital. Ergo, York was the first.
There's one problem with this argument, which is that the Articles of Confederation were drafted in York, not ratified. Congress had bailed on York by the time the Articles were actually ratified. So if the previous capitals are excluded, then so is York. But let's be fair: capital or not (and I'm inclined to say it was a capital, just not the first), being the place where the first constitution of the United States (yes, the Articles of Confederation were a constitution even if not titled as such) is pretty damn significant.
But that may be the most significant thing that's ever happened in York. It does hold the distinction of being the largest town in a non-seceding state to be occupied by Confederate forces during the Civil War, as forces under General Jubal Early occupied York for a few days about a week before the Battle of Gettysburg. But that's only mildly significant, and in any case it's nothing to brag about. York was also the site of race riots in 1969, which followed years of harsh treatment of the African-American community at the hands of the police. Again, nothing to brag about (and also something that makes you wonder if the Confederates' occupation back in 1863 really only lasted for a few days). So it's probably no surprise that when it came time to name the baseball team, the city looked to its glory days as a national capital.
So why is there a sprocket in the logo?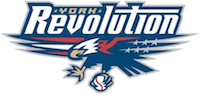 There wasn't originally. Originally the logo featured an eagle with stars-and-stripes wings, clutching a baseball in its left foot. That seems a reasonable logo for a team called the Revolution who take their name from the Revolutionary War. But somewhere along the way the team decided it was time for a new logo. No big deal, lots of minor league teams do that from time to time. But for some reason the team decided that just making a new logo wasn't enough. They wanted to redefine the name — from American Revolution to Industrial Revolution. In a press release, the team's general manager said that the previous logo "did not reflect the essence of York as a special and unique manufacturing town". I won't dispute that York is a manufacturing town, but a "special and unique" one? Well, these are the same people who claim to be the first capital of the United States, so I shouldn't be surprised. In any case, York is home to a major Harley-Davidson factory and headquarters for York International, a major HVAC company, so it's not complete horse shit. And that's why there's a sprocket in the logo. And an exhaust pipe. And a couple of screws.
What is less clear to me is whether this also explains why the eagle is drawn so poorly. Seriously, guys, is that grey bit the eagle's torso or is it a mountain and there's a gigantic eagle peering over it?. I can't tell. And the eagle's face looks clumsy. There's elegant simplicity, and then there's...this. I think the manufacturing references in the logo are a bit silly (particularly the exhaust pipe), but I could probably forgive it if the eagle was drawn a bit better. As it is, I look at this logo and can only think: if this is the most recent revolution, then it's time for a counter-revolution.
Final Score: 125 points.
Penalties: Singular, 15 pts; Equipment (egregious), 27 pts; Humanoid, 30 pts; Cartoon, 47 pts, Logo, 12 pts.
Bonuses: Local, -6 pts.
---
This page Copyright ©2018 Scott D. Rhodes. All rights reserved